Von Thomas Hobbes' Leviathan zum Song Levianthan Unleashed
Thomas Hobbes schreibt in seinem politikphilosophischen Standardwerk "Leviathan. Oder Stoff Form und Gewalt eines kirchlichen und bürgerlichen Staates" über die Legitimität der Staatsgewalt (sehr) kurz geschildert folgendes: In einem fiktionalen Naturzustand, ohne staatliche Ordnungsstrukturen, genießt der Mensch zwar volle Autonomie, es gilt jedoch das Recht des Stärkeren, denn der Mensch ist dem Menschen ein Wolf. Dieser Naturzustand wird überwunden, durch den so genannten Gesellschaftsvertrag, wenn sich die Menschen sich zusammenschließen und die eigene Autonomierechte an den Staat abtreten. Es entsteht der Leviathan, der menschliche Gott, der Eine, der aus der Vielheit entsteht und absolute Macht über die Untertanen, die ihn geschaffen haben, ausübt. Er ist der Eine, der dazu bestimmt ist, Frieden zu erhalten, indem er so viel Autorität und Stärke auf sich vereint, dass er den kollektiven Willen aller gegen den Feind zu lenken vermag (vgl. Hobbes, Leviathan. Suhrkamp 1999, S.134 sowie Wikipedia für die Generation Online)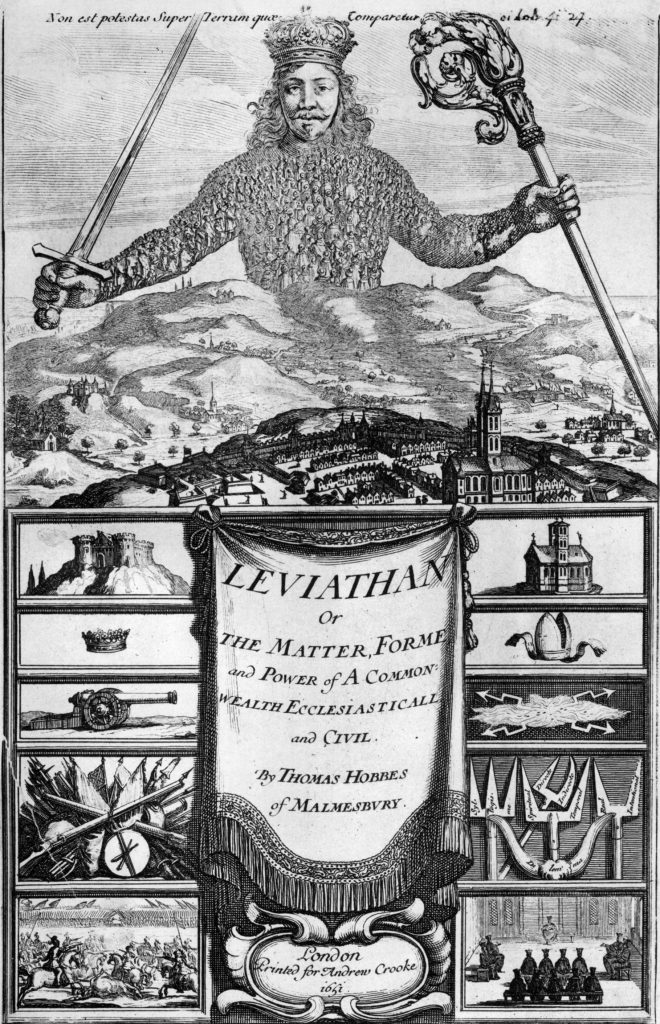 Daraus ergibt sich klar, dass die Menschen während der Zeit, in der sie ohne eine allgemeine, sie alle im Zaum haltende Macht leben, sich in einem Zustand befinden, der Krieg genannt wird, und zwar in einem Krieg eines jeden gegen jeden.

Thomas Hobbes, Leviathan, Suhrkamp 1996, S. 96.
---
An diesem absoluten Staat, der seine Konstituenten unterwirft und Bestimmer sowie Bewahrer des gesellschaftlichen Friedens zugleich ist, hat sich die politische Philosophie seit dem Erscheinen 1651 kritisch abgearbeitet. Am Ende steht (auch, aber nicht nur!) ein Ungetüm, ein Zerrbild der Macht, ein Monstrum, das unliebsame Subjekte der Gesellschaft grausam unterdrückt.
Wir leben in Zeiten, in denen uns rechtsradikale Bewegungen weis machen wollen, wir lebten in einem erneuten Naturzustand, der auch immer ein immanenter Kriegszustand ist. Das Volk müsste den Aufstand wagen, und einen neuen Leviathan erschaffen, um sich vor sich selbst zu retten. Dieses Monstrum der Ideengeschichte ist – implizit – wieder en vogue und es soll jene vernichten, die aus der Sicht der Rechtsradikalen nicht zum reinen politischen Körper passen.
Um den Leviathan erstehen zu lassen, gehören die Ängste und Vorurteile in der Bevölkerung genauso, wie der intellektuelle Unterbau rechter oder faschistischer "Philosophen", die eine moderne Form von Rassenkunde und völkischer Zugehörigkeit propagieren und die charismatischen, populistischen Führer im Stile der Trumps, Erdogans und Orbàns, die das Monstrum Leviathan herbeibeschwören – indem sie Hass und Zwietracht zwischen den gesellschaftlichen Gruppen sähen – und das Monster dann von der Leine lassen: LEVIATHAN UNLEASHED.
Leviathan Unleashed – Lyrics
PT I: NOW, THE PEOPLE SPEAK
Hey you! Where are you coming from?
Tell us! Quickly! So we can get along.
Come into the light, we need to see your face
Are you weary from your journey, from your life that's been displaced?
Tell us, what's your title! Do you think you have
a right to live and prosper, anywhere that's safe?
You cannot stay! Make up your mind!
Don't you fool us! We know your kind.
We are the people, we're the nation, mortal god.
We are Leviathan unleashed, we're the true ones you're the fraud.
You are the imposition, you're a threat to our people's health.
You are part of the conspiracy, that's feasting on our wealth.
We are the original settlers, scraped our livings from this earth,
Passed on through generations, solely by birth
You will bring the storm, ravaging what we've built,
You are the masses, bad dudes that are pouring in.
PT II THE EPIC SISKIN SINGS AGAIN (Instrumental)
PT III: THE PHILOSOPHER OF FEAR
You might be living on illusions – but awakening's near
Fellow citizens, I'm the philosopher of fear.
History is turning like a merry-go-round,
narcissistic generation ran us aground
Pushed to the abyss by the children of plenty
Their guiding ideas, hollow and empty
We re-write the rules of our society
The incestuous system will just cease to be
Unravel the values that tie us together
The man behind the curtain makes us change for the better
Unholy alliances – a deep black state
Be aware! Don't act too late!
We will end the era of non-identity
Re-establish our supremacy
We must expulse those leftist maniacs,
For they must be blamed for our society's cracks
PT III: THE POWER OF THE LEADER
It's the greatest movement the world has ever seen
We put our nation first the way it's ought to be
I'm just a messenger and middleman,
for the people's power I work as hard as I can.
The world is a mess but I will safe you
From carnage and rage and from XYZ, too.
Defend our nation from evils out there
It's gonna be huge, I'll lift us from despair.
Follow me, 'cause I have seen the light
Whatever others say, I can feel truth and right,
I know of our greatness and this nation's cause
These days we're in our own, the way it always was.
There will be no intrusion from whatever side
We will build walls to make our future bright.
All those corporations with their aims concealed
They will end with me and my art of the deal.
PT IV: (RE)EVOLUTION REVISED, OR: WHEN IT'S UNLEASHED
In these dark ages, when the people live in fear
There's a creature returning to the land up here
The beast is us and we are it
Serving the political hypocrite

Leviathan unleashed, On the body of good cause,
the mob will feast, Leviathan the mortal god,
In the name of the people
By the rule of the sword.
PT V: THE EPIC SISKIN (REPRISE)