Wie kann man den Frühling herbeisehnen, wenn der Winter in das Leben gezogen ist und dichte Wolken und Kälte das Gemüt verdunkeln? Wo, so fragt man sich vielleicht, ist man falsch abgebogen? Wie bringt man die Sonne und die Wärme zurück? Und was tun, wenn da zwei sind, die langsam aber unaufhaltsam ihre Gemeinsamkeiten verlieren?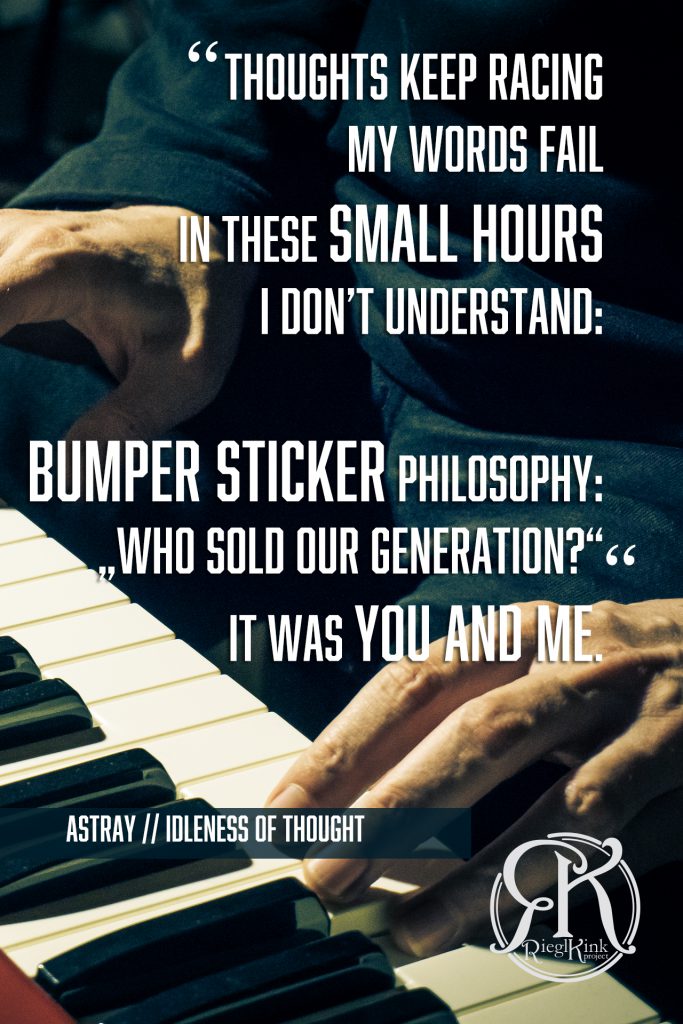 Astray – Lyrics
Thoughts keep racing
My words fail
in these small hours
I don't understand:

A cool summer breeze
turned to winter's chill
While I long for
spring's warmth again
Bound to go astray
On this crooked way
Bumper sticker philosophy
"Who sold our
Generation?"
It was you and me
Lost my love
Lost myself
I didn't care,
turned to something else
Bound to go Astray
On this crooked way
Ain't no turning back
One way track
Ain't it strange,
as seasons change,
We keep fooling around,
lose our common ground?
Now, can anyone tell,
how we've lost ourselves as well?
Carry on
finite life?
Go for change
While we're still alive?
Despite turmoil,
madness everywhere,
Hope for summer's breeze
Still out there
Bound to go astray
On this crooked way
I don't think,
We've gone far,
Stuck in winter's cold
That's where we are.
Self-reflection,
That is when
Seasons start
to change again
Bound to go Astray
On this crooked way
Ain't no turning back
One way track